Loaded with 56 containers or some 1,100 tons of cargo, a Zhengzhou-Central Asia freight train left Putian Station in Zhengzhou city of Central China's Henan province on May 18 for Tashkent, capital of Uzbekistan, via Khorgos Port in Northwest China's Xinjiang Uygur autonomous region.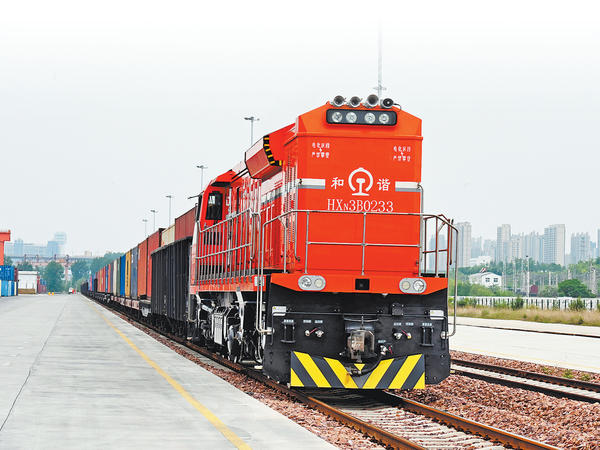 A freight train in Zhengzhou. [Photo/Henan Daily]
Since the debutof Zhengzhou-Central Asia rail freight service on May 18, 2018, the number of train trips has surged from 1 per month to the current maximum of 27, the speed from 80 km/h to 120 km/h, the coverage of cargo collection service from 500 km to 1,500 km, and the development pattern from "point-to-point" to "hub-to-hub". Up to now, Zhengzhou-Central Asia freight trains have made 1,160 trips, and it takes only 12 days at the soonest to get to the destination.
"The rapid development of Zhengzhou-Central Asia freight has enlarged Henan's 'circle of friends' under the Belt and Road Initiative, boosted the local industrial development, carriedmore China-made products to the world and more Central Asian commodities into China, and enabled the people along the route to have a strong sense of gain," said Chang Baodong, manager of the Multimodal Transport Department of China Railway Container Transportation Company Zhengzhou Branch.
Dubbed "golden trains" on the Belt and Road route, Zhengzhou-Central Asia freight trains, as important forces supporting Henan's participation in the Belt and Road construction, have contributed their efforts to the building of Henan into an inland opening-up highland with complete functions, efficient services and smooth logistics, formed an international logistics network featuring "multiple stations and ports" and a "1+N" global logistics hub system, and smoothed the international logistics corridor linking Zhengzhou with Europe, Central Asia and the ASEAN countries, with more than 6,000 business partners at home and abroad. (Chinese source: Henan Daily Reporter: Chen Hui and Guo Beichen Translator: Zhao Hanqing & Yang Jiaxin Proofreader: Chen Xingjie)