The Qatar World Cup has kicked off. Although Team China misses out in the competition, off the field the made-in-China products are not. They have been contributing their efforts for this extravaganza held in the Middle Eastern country.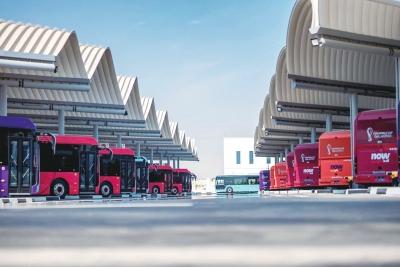 888 Yutong electric buses provide shuttle services at the World Cup. [Photo provided to Henan Daily]
"No noise, no pollution." "Great experience!" A video posted by a foreign blogger shows soccer fans from Austria and other countries singing the praises of the made-in-Henan Yutong buses. And the Chinese soccer fans are also surprisingly impressed by the buses occupying all the charging stations everywhere in the streets.
Yutong won the bid for the Qatar World Cup shuttle services, marking the first time for major global sports event to introduce Chinese new energy buses, and also the first time for pure electric buses as the main force to serve the World Cup. The service of Yutong (China's leading e-bus maker) for the World Cup is bound to enhance the strength and forge the image of Henan's manufacturing sector in the world.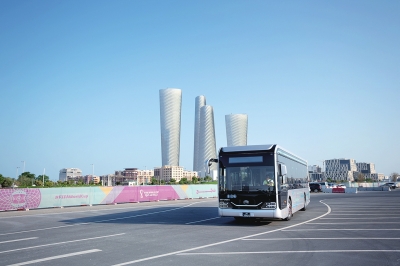 Yutong buses are plying the streets of Qatar. [Photo provided to Henan Daily]
In terms of the high revenue of ticket sales and broadcasting right, brand sponsorships and related product sales, it is fair to say that the World Cup is a super money-printing machine once every four years. According to the report, the 2022 World Cup is expected to bring about 1.2 million fans from around the world to Qatar and generate $17 billion in economic benefits. However, Qatar's GDP in 2021 was $179.57 billion according to the World Bank. The World Cup's economic driving force is evident.
The World Cup is not only a grand sports event, but also an economic feast.
Chinese elements shining in the Qatar World Cup, including the stadium constructed by a Chinese company (which has set many records), the Chinese-made shuttle buses and related commodities, demonstrate the strength of "Made in China". Under the circumstance of COVID-19 pandemic and instability of the industrial and supply chains, the popularity of made-in-China products overseas reflects not only the competitiveness, but also the stability and resilience of China's industrial and supply chains, which is invaluable in international economic and trade cooperation.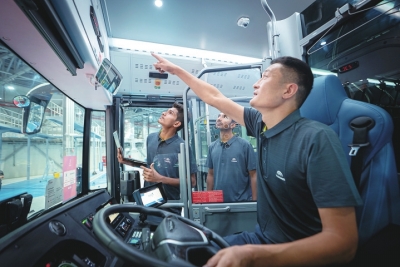 Yutong technicians provide training for over 2,000 local drivers. [Photo provided to Henan Daily]
Apart from the popular Chinese-made products, the service teams organized by Chinese engineers have also been contributing their efforts to ensure the success of the extravaganza. During the global competition, the Chinese products, services and standards have been widely accepted. "Made in China" will be more influential worldwide. (Chinese source: Henan Daily Reporter: Ding Xinke Translator: Zhao Hanqing Yang Jiaxin Poster: Han Yusong)