Editor's note: What are the main objectives for economic and social development of Central China's Henan province during the 14th Five-Year Plan period (2021-2025)? How to establish a modern industrial system and build a stronger digital economy during the period? Starting on September 26, we are launching the "Wonderful Henan·Here We Are" bilingual series, bringing you in-depth coverage about The Outline of the 14th Five-Year Plan (2021-2025) for National Economic and Social Development and Vision 2035 of Henan Province. The following is the 2nd story of the series: Objectives set for Henan's economic and social development by 2025 (Part I).
编者按:"十四五"时期,河南经济社会发展的主要目标是什么?如何加快建设现代产业体系?做大做强数字经济,哪些领域值得关注?9月26日起,大河网推出"出彩中原·我们共同见证"双语系列报道,以《河南省国民经济和社会发展第十四个五年规划和2035年远景目标纲要》为蓝本,通过动画短视频、图文报道等多种表现形式,带你全方位了解河南2035年远景目标和"十四五"时期经济社会发展主要目标、发展战略和重要举措。今日推出第2期:《"十四五"期间,河南将完成这些"小目标"!(一)》
Click on the video above
Full text:
全文:
Main objectives for economic and social development during the 14th Five-Year Plan period (Part I)
"十四五"时期经济社会发展主要目标(一)
Anchoring Vision 2035 and focusing on high-quality development, high-quality life and efficient governance, Henan will make greater strides in the next five years to achieve the following main objectives.
锚定二〇三五年远景目标,聚焦高质量发展、高品质生活、高效能治理,今后五年要在奋勇争先、更加出彩上迈出更大步伐,努力实现以下主要目标。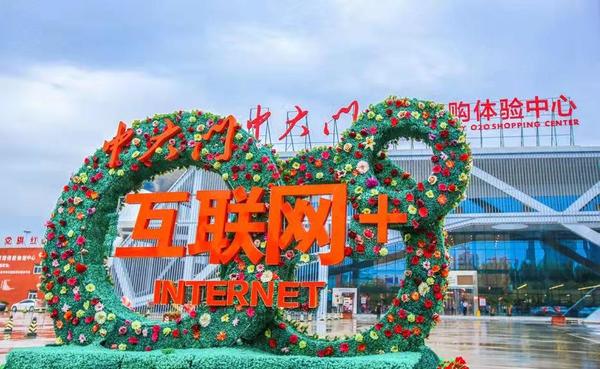 China (Zhengzhou) Cross-Border E-Commerce Pilot Zone. [Photo provided to dahe.cn]
— Great progress will be made in fostering new growth poles. Major progress will be made in building Henan into an economically strong province. The average annual growth rate of major economic indicators is projected to exceed the national average, and the economic aggregate will reach new highs. Significant progress will be made towards a modernized economy and the economic structure will be further optimized. The share of manufacturing in the economy remains stable and the upgrade of the industrial base and modernization of the industrial chains will be significantly improved. We will develop 10 industries at the level of trillion and 10 emerging industrial clusters at the level of 100 billion, and take the lead in developing new types of infrastructure. Reform in key links and major fields continues to deepen, and market entities will be increasingly dynamic. The level and quality of urbanization will be significantly improved and the number of permanent urban residents will increase to 60%. Major progress will be made in developing Zhengzhou as a national central city and Luoyang as a sub-central city. The leading role of metropolitan areas will be fully manifested, and the overall competitiveness of city clusters in Henan will be markedly enhanced.
——全国新增长极培育实现更大跨越。经济强省建设迈出重大步伐,主要经济指标年均增速高于全国平均水平,经济总量再迈上两个新的大台阶。现代化经济体系建设取得重大进展,经济结构更加优化,制造业比重保持基本稳定,产业基础高级化、产业链现代化水平明显提升,形成10个万亿级产业和10个千亿级新兴产业集群,新型基础设施建设走在全国前列。重点领域关键环节改革持续深化,市场主体更加充满活力。城镇化水平和质量显著提升,常住人口城镇化率突破60%,郑州国家中心城市、洛阳副中心城市建设取得重大进展,都市圈引领带动作用充分显现,中原城市群综合竞争力明显增强。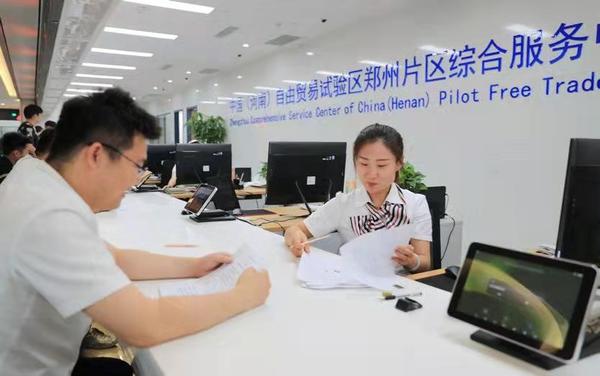 China (Henan) Pilot Free Trade Zone. [Photo provided to dahe.cn]

—Great progress will be made in the development of innovation centers in central and western China. Henan will accomplish much towards becoming an innovative and vitalizing province with outstanding people, and the innovation system will be further improved. The growth rate of R&D spending is expected to exceed the national average. New breakthroughs will be achieved in the building of high-level innovation platforms. The number of high-tech enterprises is expected to double and the dynamism of innovators and talents will continue to be spurred. Systems and mechanisms for innovation will be further improved. The quality and efficiency of the application of scientific research achievements will be promoted markedly, and technological and industrial innovation will lead the central and western regions.
——中西部创新高地建设实现更大跃升。创新型省份和人才强省建设取得重大进展,创新体系更加完善,研究与试验发展经费投入强度增幅高于全国平均水平,高水平创新载体平台建设实现新突破,高新技术企业数量实现翻番,创新主体和人才活力持续激发,创新体制机制更加健全,科研成果转化质量和效率明显提升,科技创新、产业创新走在中西部前列。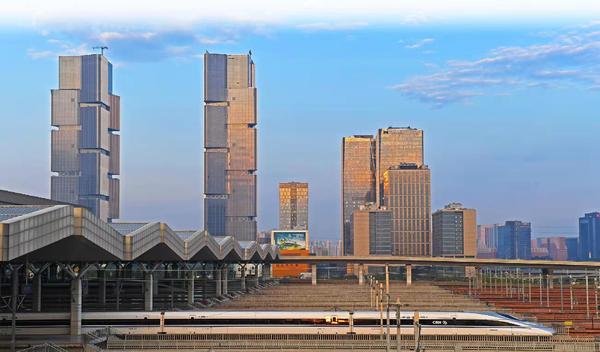 Zhengzhou East Railway Station. [Photo provided to dahe.cn]
—Henan Province will integrate into the new stage of development to secure greater achievements. The potential of domestic demand will be unleashed, the business environment will be significantly improved, and a high-standard market system will be basically put in place. The all-round transportation channels in the shape of the Chinese characters "米", "井" and "人" will be completely built, and thus strengths of logistics hubs connecting Henan and the rest of the world and driving the development of the east and west will manifest themselves to a greater extent. A national important information and communication hub and information distribution center will be basically completed, and the modern circulation system will be further improved. The advantage of Henan Province as an inland highland for opening-up will be strengthened. "Four roads" including air, land, online and maritime silk roads will be well-coordinated and Zhengzhou Airport Economy Zone will be built into a more internationally influential gateway and hub. The system innovation in the free trade zone, the operation of China-Europe Railway Express (Zhengzhou), and the scale and quality of cross-border e-commerce will stay ahead in China. The multi-level platform system for opening up will be further improved and a new open economy system at a higher level will be in place. Henan's total import and export value will exceed RMB 750 billion, and the internationalization level will be significantly improved.
——融入新发展格局实现更大作为。内需潜力充分释放,营商环境显著优化,高标准市场体系基本建成。"米+井+人"综合运输通道全面形成,连通境内外、辐射东中西的物流通道枢纽优势更加彰显,全国重要的信息通信枢纽和信息集散中心基本建成,现代流通体系更加完善。内陆开放高地优势更加凸显,"四路协同"水平显著提升,郑州航空港经济综合实验区建成更具国际影响力的门户枢纽,自贸试验区制度创新走在全国前列,中欧班列(郑州)、跨境电子商务规模和质量保持全国领先,多层次开放平台体系更加健全,更高水平开放型经济新体制基本形成,进出口总值突破7500亿元,国际化水平显著提升。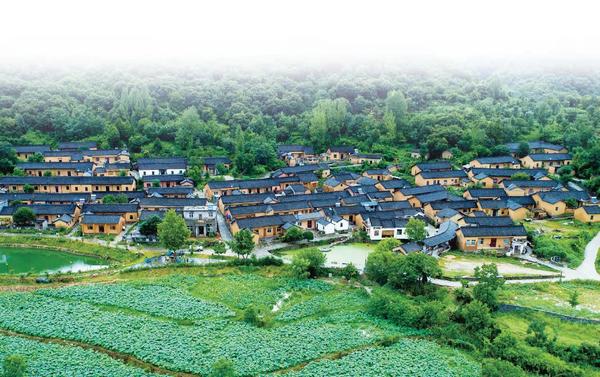 Tianpudawan village in Xinxian county, home to creators, has been selected as one of the third batch of Chinese traditional villages. [Photo provided to dahe.cn]
—Greater breakthroughs will be made in rural revitalization. We will pool efforts to consolidate the achievements of poverty alleviation, and further promote the revitalization of rural industries, talents, culture, ecology, organizations. Overall grain production capacity is expected to stabilize over65 billion tons, and agricultural facilities and equipment and modern seed industry remain at the forefront in the country. The integrated development of primary, secondary, and tertiary industries in rural areas will be improved, and the quality, efficiency and competitiveness in the agricultural sector will be significantly improved, so will rural living environment and infrastructure. We will continue to deepen comprehensive rural reform, improve systems and mechanisms for integrated urban-rural development, and lead the country in modernizing agriculture and rural areas.
——乡村振兴实现更大突破。脱贫攻坚成果巩固拓展,乡村产业、人才、文化、生态、组织振兴深入推进,粮食综合生产能力稳定在1300亿斤以上,农业设施装备和现代种业水平走在全国前列,农村一二三产业全面融合发展,农业质量效益和竞争力明显提高,农村人居环境和基础设施显著改善,农村综合改革持续深化,城乡融合发展体制机制更加健全,农业农村现代化走在全国前列。
A special thanks goes to the Office of the Foreign Affairs Commission of the CPC Henan Provincial Committee and the School of International Studies of Zhengzhou University for their support to the "Wonderful Henan·Here We Are" bilingual series.
特别感谢河南省委外办、郑州大学外国语与国际关系学院对本次策划的大力支持。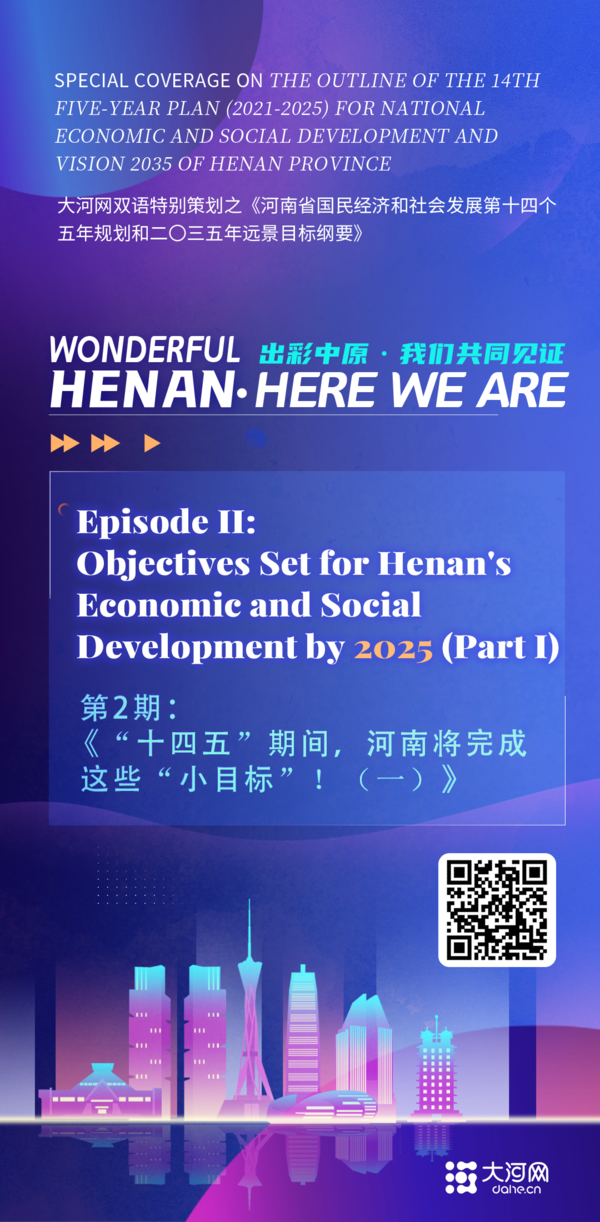 统筹:李敬欣 张培君
文案:赵汉青
播音:杨佳欣
视频:何蒙贺
海报:赵原歌