Editor's note: Located in the middle and lower reaches of the Yellow River, Henan is not only a ceramic production area with the most complete variety of ceramics in China, but also a province with the largest number of ancient kiln sites. Sancai, Jiaotai porcelain, white porcelain, Ru porcelain, etc., are shining pearls of Henan. The Chinese ceramic culture centered on Henan is one of the important cultural heritages fostered by the Yellow River culture. Starting on August 2, we are launching the Visit Henan, Explore China series featuring 6 short videos to help you catch a glimpse of wonderful Henan through ceramics. Here is the second episode: Primitive Porcelain, Not Primitive at All.
编者按:位于黄河中下游地区的河南,不仅是中国品种最全的陶瓷产区,而且还是拥有古陶瓷窑址数量最多的省份。三彩、绞胎瓷、白瓷、汝瓷等遍布河南山山水水。可以说,以河南为中心的中国陶瓷文化是黄河文化孕育出的重要文化遗产之一。8月2日起,大河网推出6期双语特别策划——在河南,遇见China。让我们一起,通过陶瓷文化,"豫"见中原精彩。今日推出第二期:《原始瓷,蕴藏的并非原始》。
Click on the video
NB: This is not a word-for-word transcript
Hello, this is Yang Jiaxin. In last episode, we learned the history of some beautiful painted pottery wares from the Yangshao Culture period. Today, let's go and have a look at Chinese primitive porcelain.
大家好,我是杨佳欣。在上一期的节目中,我们了解了优美而古朴的仰韶彩陶。今天,就让我们跟着镜头,一睹原始瓷的风采吧。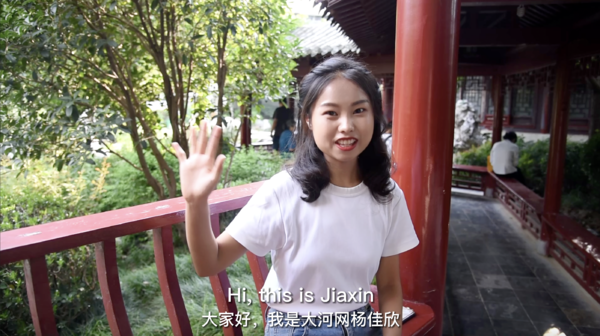 A screenshot from the video above
The slave society of China mainly refers to the periods of the Xia (21st-16th century BC), Shang (16th-11th century BC), Western Zhou (11th century-771 BC) and Spring and Autumn (770-476 BC, part of the period of Eastern Zhou lasting from 770-256 BC). From the 21st to the 5th century BC, China experienced great changes and laid a solid foundation for the later Iron Age with the appearance of China's first fully-developed characters, large-scale cities and earliest porcelain - primitive porcelain or proto-porcelain.
夏、商、周时期是中国的奴隶制社会时期,约自公元前21世纪至公元前5世纪。这一时期是中国历史上的大变革时期,上承新石器时代,下启铁器时代,不仅形成了成熟的文字体系和大型城址,还出现了中国瓷器的鼻祖——原始瓷。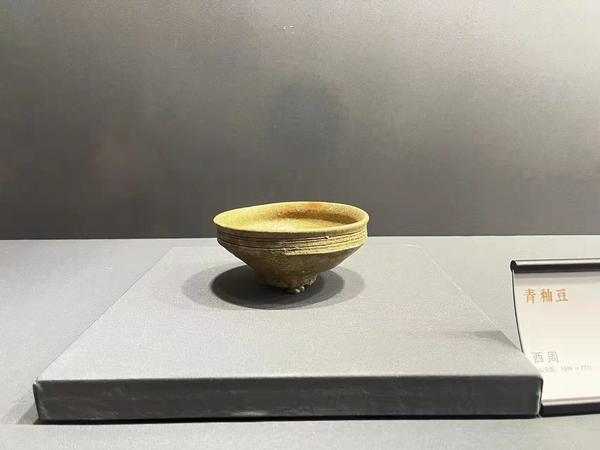 A primitive porcelain of the Western Zhou Dynasty. [Photo/dahe.cn]

Primitive porcelain had been made and developed by pottery-making skills. At the sites of Shang Dynasty in Zhengzhou city, Henan province, archaeologists discovered a large number of glazed porcelain and their fragments, exquisite and hard, which were fired with a temperature above 1,000 degrees Celsius. As they were made by the primitive firing techniques, they are called primitive porcelain.
原始瓷是在制陶技术的基础上发展而来的。在河南郑州等地商代遗址,发现很多带釉的瓷尊、瓷罍和瓷罐等,以及这些器物的碎片,胎骨细腻坚硬,烧成温度在千度以上,叩之有金属声。因制作工艺原始,故被称为原始瓷。
This is a primitive porcelain of Western Zhou Dynasty, with a wide mouth, slender neck, sloping shoulder and looped bottom, which is a representative of primitive porcelain.
我们现在看到的是一件西周时期的原始瓷,敞口、束颈、斜肩、圈足,是原始瓷的代表作之一。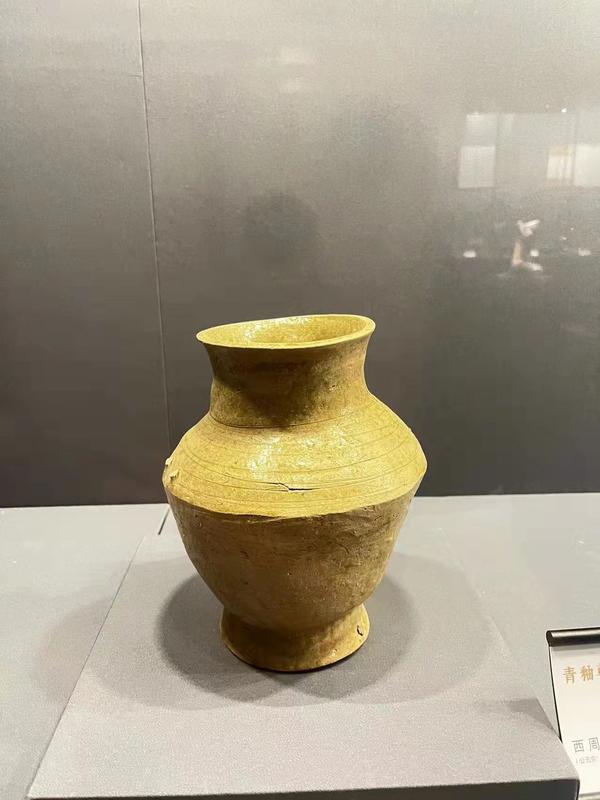 A primitive porcelain of the Western Zhou Dynasty. [Photo/dahe.cn]
The evolution from pottery to porcelain was a process in which the Chinese ancestors became familiar with the characteristics of water, fire and earth. First found at the Erlitou site in Luoyang city, primitive porcelain wares were still in use during the Shang and Zhou dynasties. Because of their hardness and jade-like glaze, primitive porcelain wares were usually made for the upper classes. Although the quality of primitive porcelain is inferior to the later mature porcelain, it is the Chinese nation's great contribution to the progress of human civilization.
由陶到瓷的漫长发展过程,是先民对水、火、土的特点不断熟悉的过程。原始瓷始见于二里头遗址中,至商、周时期仍有使用。原始瓷以其坚硬的胎质和光亮如玉的釉面而成为高规格的器物。原始瓷的质量虽然远不如后来成熟的瓷器,但却是中华民族为人类文明进步作出的重大贡献。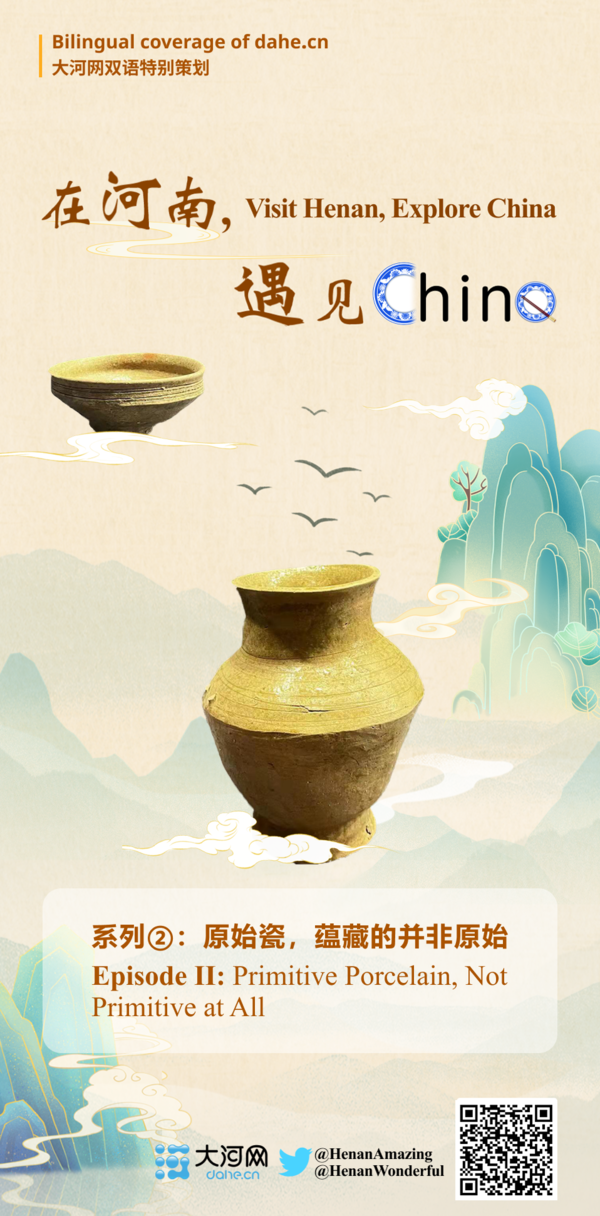 策划:王曦辉 张培君
文案:赵汉青
出镜:杨佳欣
制作:王君艺 何蒙贺
审校:李文竞