Nurtured by four rivers (namely the Yangtze River, Huaihe River, Yellow River and Haihe River), Central China's Henan province, through which the main channel of China's South-to-North Water Diversion Project (central route) runs, enjoys a prominent role in China's extensive river network.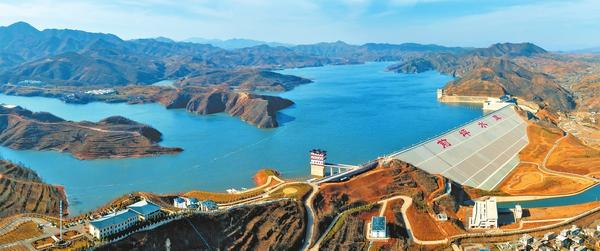 Qianping Reservoir in Luoyang city. [Photo/Tan Yong and Yang Qige]
So far, Henan has basically formed a modern waterway network featuring "one vertical axis and three horizontal axes covering four basins", said a source from the provincial water conservancy conference of 2022 on January 11.
One vertical axis refers to the main channel of China's South-to-North Water Diversion Project (central route), while three horizontal axes trunk streams of the Yellow River, Shaying River and Huaihe River, and four basins the Hiahe River, Yellow River, Huaihe River and Yangtze River. (Chinese source: Henan Daily Reporter: Tan Yong Translator: Zhao Hanqing Wang Jiaqi Hu Xiaohan Poster: Wang Junyi Proofreader: Chen Xingjie)