"I love Wushu (also known as martial arts), Henan and China!" At the Awarding Ceremony of the Large-scale Media Integration Event of "Chinese-African Kungfu Show" on the afternoon of November 23, Ali, one of the prize winners from Ethiopia who is now studying at Henan Polytechnic University, expressed his love for Chinese Wushu and culture.
Click on the video
New form of China-Africa cooperation and exchanges becomes a hit
Wushu, a sport with typical Oriental culture and characteristics, has been recognized and enjoyed by people all over the world, especially in Africa. Central China's Henan province, one of the cradles of Chinese civilization, is a place where the brilliant Chinese Wushu culture originated.
The awarding ceremony. [Photo/dahe.cn]
"2021 marks the last year of implementing the outcomes of the 2018 Beijing Summit of the Forum on China-Africa Cooperation since the new round of forum will be held in Senegal, co-chair of the forum. Under the guidance of the Ministry of Foreign Affairs of China and the General Administration of Sport of China, Henan and China Media Group co-hosted the 'Chinese-African Kungfu Show'." Liu Bao, head of the Division of Asian and African Affairs, the Office of the Foreign Affairs Commission of the CPC Henan Provincial Committee, told dahe.cn, by exploring new form of China-Africa cooperation and exchanges, the event provided a platform to Chinese and African Wushu enthusiasts for exchange and demonstration, aiming to show 'the brilliant culture with Chinese characteristics, spirit and wisdom', promote mutual learning between China and Africa, serve the overall interests of China-Africa friendship and cooperation and make contributions to building a closer China-Africa community with a shared future.
It took almost one year to plan, prepare and host the event, with a series of activities carried out and 9 promotional videos such as Shaolin Kungfu and Taijiquan (also known as Tai Chi) produced. More than 500 Wushu enthusiasts from nearly 30 African countries, including Senegal, Cameroon and Zambia, submitted their videos. Promoted by CCTV's special programs, 4 live broadcasts and other new media platforms, the event received wide attention in China and Africa. Up to now, the total number of hits on different media platforms has reached almost 100 million.
To be an envoy of China-Africa friendship
A total of 449 individuals and organizations won the prizes of the event.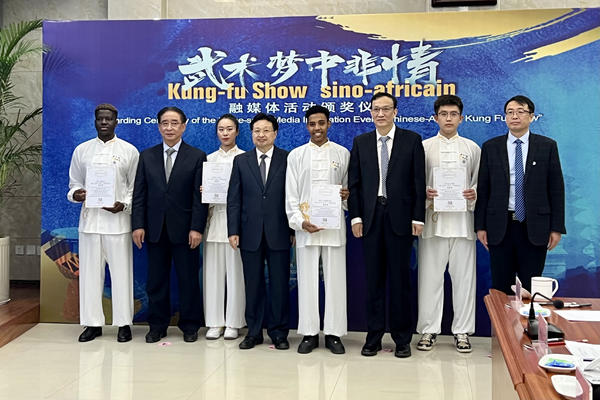 The awarding ceremony. [Photo/dahe.cn]
"I have been learning Taijiquan for almost one year. I am very happy to participate in this event and become a prize winner." Ali told dahe.cn that practicing Taijiquan made him very comfortable and enhanced communication and friendship with his Chinese friends. "I will teach my fellow villagers to practice Taijiquan and become an envoy of China-Africa friendship."
Feng Anda, a sophomore at Henan Polytechnic University, has been practicing Taijiquan for 5 years. "Through the event, I have fostered a deeper understanding of the significance of Chinese Wushu and Henan's Taiji culture in international exchanges." Feng Anda said that Taijiquan is a sport inheriting Chinese Kungfu, culture and essence, so he will further improve his techniques while inheriting and carrying forward the Taiji culture and traditional Chinese culture.
The promotional videos were debuted at the awarding ceremony. Wonderful performances of Shaolin Kungfu, Taijiquan and traditional African dance were also staged by African students from Zhengzhou University, Henan University and Henan Polytechnic University and students from Shaolin Temple Wushu Training Center. (Chinese source: dahe.cn Reporter: Liu Yang Translator: Zhao Hanqing Wang Jiaqi Poster: Wang Junyi Proofreader: Li Wenjing)