The Zhengzhou-Puyang section of Zhengzhou-Jinan high-speed railway has basically completed construction of its main and supporting projects and entered the static acceptance phase, said a source from the construction site on November 19.
Click on the video
With a designed maximum running speed of 350 kilometers per hour, the Zhengzhou-Jinan high-speed railway is the final step to form Henan's star-shaped high-speed rail network. The Zhengzhou-Puyang section includes 5 stations, namely Pingyuanxinqu, Weihuinan, Huxianxunxian, Neihuang and Puyangdong.
The static acceptance, an important phase of high-speed rail's construction, will take two months. In strict accordance with the acceptance specifications and standards, 11 professional teams will inspect the Zhengzhou-Puyang section thoroughly.
Following the static acceptance, integrated testing and commissioning and safety assessment will be carried out within several months. The Zhengzhou-Puyang section is expected to be open to traffic in the first half of 2022.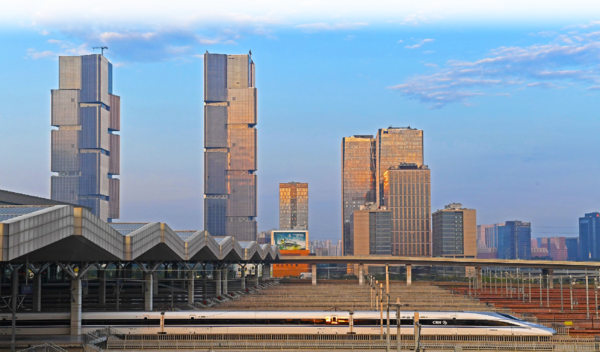 Zhengzhoudong Railway Station. [Photo provided to dahe.cn]
As a bridge to accelerate the regional coordinated and interconnected development, the Zhengzhou-Jinan high-speed railway not only links Zhengzhou with the counties including Weihui, Huaxian, Neihuang, Qingfeng and Nanle in the province, but also makes Puyang an important high-speed rail channel which is only an hour away from Zhengzhou. Outside Henan, the Zhengzhou-Jinan high-speed railway will serve as a fast passenger corridor linking the city clusters in Central China and those in Shandong Peninsula, which is of great significance for traffic system improvement and resources integration of the two provinces.
According to Long Zhigang, head of the Transportation Strategy Development Division of Henan Communications Planning and Design Institute, the opening of Zhengzhou-Puyang section means that all the prefecture-level cities across the province will be connected by high-speed railways and Henan will also be the first in China to have a star-shaped high-speed rail network. (Chinese source: Henan Daily Reporter: Dong Ping & Sun Jing Translator: Zhao Hanqing Broadcaster: Wang Jiaqi Video: Wang Junyi Proofreader: Ding Lan)