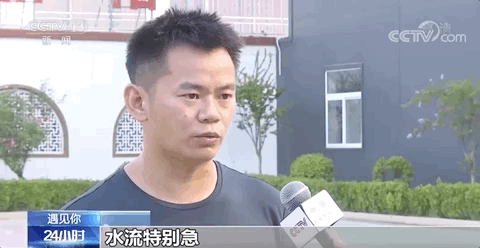 Yuan Gebing said he is not yet used to being interviewed and living in the spotlight. "I'm actually quite dull in real life," he said.
Yuan became a hero and a well-known figure in Zhengzhou, capital of Henan province, and in his adopted hometown of Wuhan, capital of Hubei province, after his heroic deeds were reported in the media. The 31-year-old, a native of Shiyan city in Hubei, helped rescue more than 50 people stranded by floods when a storm hit Zhengzhou in late July, fighting through floodwaters for more than 16 hours.
"I only did what I had to," said Yuan, who was an electric welder with the China Railway First Group and was participating in the construction of Zhengzhou's metro. "When COVID-19 hit Wuhan at the beginning of last year, many people from around the country, particularly medical workers, volunteered to help fight the epidemic there, so I felt I should do something for the residents of Zhengzhou when it was hit by heavy rain."
As he tried to go about his business by bike after lunch on July 20, Yuan found that many downtown areas were flooded, and many people were trapped. Yuan joined firefighters and police officers in rescuing flood victims.
The continuous downpour caused water levels to rise rapidly, and Yuan was often forced to swim through flooded streets.
He kept going for 16 hours, helping move stranded people to safe places. "I grew up by the water, and I can swim well," Yuan told those he was rescuing to comfort them and encourage them not to panic.
Most of the people he rescued were bus passengers and drivers stranded when their vehicles became trapped in floodwaters.
Yuan ate dried instant noodles and biscuits to allay his hunger during his rescue. After the floodwater receded, he helped rescue teams dredge and clean streets for several more days.
His heroism became widely known after media reports.
Zhang Ping, one of the flood victims he helped rescue, said she was very grateful to Yuan. "I didn't know his name at the time, but I recognized his face, and I thank him very much for giving me a second life!" Zhang said.
Yuan said his father phoned him after learning of his son's heroic deeds. "My father told me that he thought I had done a great thing. He taught me to do good as often as possible," he said.
Yuan, said that he would work just as hard to help rescue victims of any future disaster he encounters. In recognition of his actions, the China Railway First Bureau, has promoted Yuan from contract worker to full-time staff member. In addition, he no longer works as an electric welder but now has an on-site safety management post, which has significantly increased his income.
Yuan comes from a poor family. His father has congenital muscle atrophy and cannot engage in heavy labor, while his mother, who now has poor eyesight, raises chickens at home.
He solemnly submitted application for membership in the Communist Party of China last month. "I want to join the Party to serve more people in the future," Yuan said.
He said he often saw on TV that whenever there was a disaster, Party members and officials would come forward to guide residents in rescuing victims and lead disaster relief efforts.
"If I were a Party member, I would be able to tell people, and the masses would trust me more," he said. "In the future, I will work harder and spread positive energy to more people."