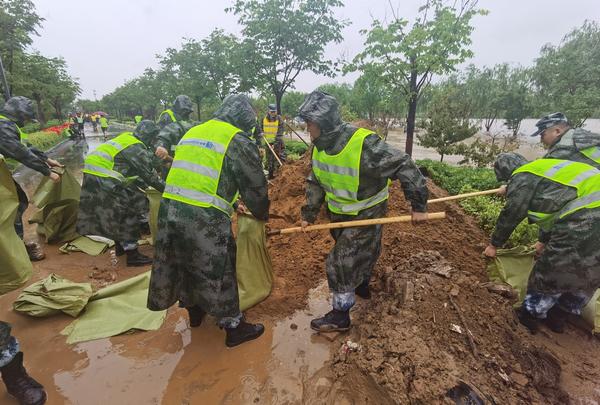 Soldiers use sandbags to reinforce banks along the Jialu River in Zhengzhou, Central China's Henan province, on July 21, 2021. [Photo/Xinhua]
Thousands of troops from the Chinese armed forces continued their relief work across Central China's flood-stricken province of Henan as of Saturday afternoon.
As of 4 pm Saturday, there were more than 8,800 soldiers from the People's Liberation Army and the People's Armed Police Force, as well as over 16,000 members of the militia and reserve forces taking part in flood relief and reconstruction work in more than 10 affected areas in Henan, according to the PLA Central Theater Command.
About 840 vehicles and engineering machines, over 140 boats and three helicopters were involved in the massive aid operation by that time, it said in a release.
In multiple areas with flood hazards, hundreds of soldiers helped local authorities reinforce dykes or build makeshift flood banks.
In the provincial capital of Zhengzhou, more than 5,000 troops were deployed in severely damaged places to help residents and business owners clear roads and remove debris and mud.
In Xuchang, a city just swept by huge floods, medical personnel from the military used disinfectants to sterilize houses that had been submerged by floodwater, examined the health condition of the elderly and children, and also distributed medicine to families.