On June 7, a wide variety of imported goods, such as black beer from Germany, pure milk from Belarus, skincare products from South Korea, chocolate from Denmark, etc., are displayed at a red booth in the Longhu Lake Park of Xixian county in Xinyang city, Central China's Henan province, providing an opportunity for local residents for buying high-quality foreign products at low price from 130 cities in over 30 countries along the route of China-Europe freight train (Zhengzhou).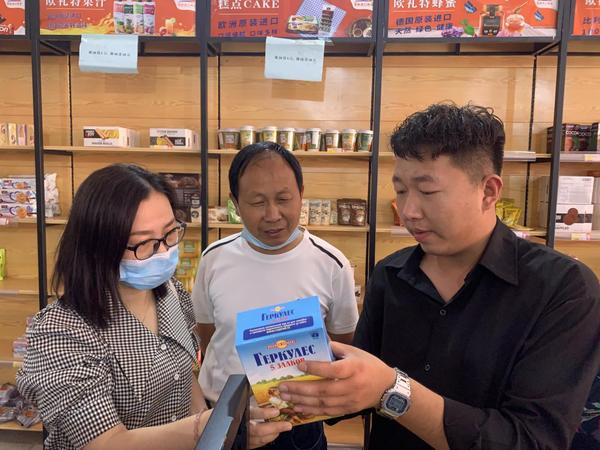 Customers select products at the booth. [Photo provided to dahe.cn]
"The products here are cheaper than those for online shopping, and we don't have to worry about their authenticity since it is organized by the government." After elaborate selection, Mr. Li, a local resident, finally bought two boxes of olive oil and dairy products satisfactorily.
To share the achievements of the Belt and Road Initiative, the shopping event will run from June 6 to 11, covering more than 100 products, such as wine, dairy products, fruit drinks and snacks, all of which are supervised and inspected by the customs. Besides, the information about the products' place of origin, date of production and customs clearance process is also available by scanning their QR codes with a mobile phone.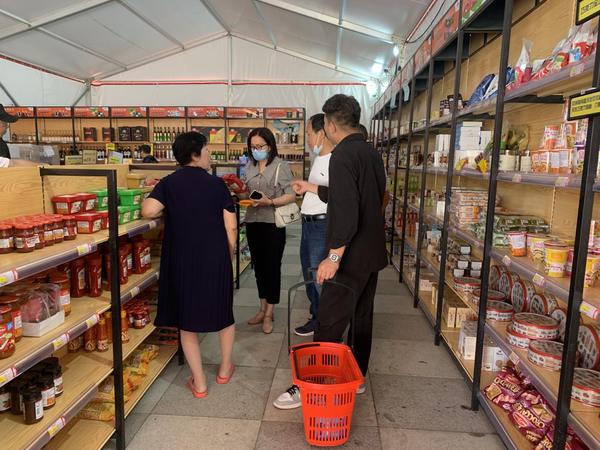 Customers select products at the booth. [Photo provided to dahe.cn]
So far, the event has attracted numerous local residents. The number of customers on its first day alone has exceeded one thousand. "Look, you can judge the products' authenticity and acquire their information by scanning the QR codes pasted on the back of the products with a mobile phone. I am really happy to buy such high-quality and reliable imported products atlow price!" Mrs Li said.
According to a staff, "The first operation of China-Europe freight train (Zhengzhou) on July 18, 2013, commenced a new 'Silk Road' linking China with Europe, also marking the successful launch of Zhengzhou's international railway logistics channel. Started from Zhengzhou, China-Europe freight train (Zhengzhou) exits China through Alataw Pass in Northwest China's Xinjiang Uygur autonomous region (Erenhot in Port in North China's Inner Mongolia autonomous region) and finally reaches Hamburg in Germany via Kazakhstan, Russia, Belarus and Poland, covering 10,214 kilometers."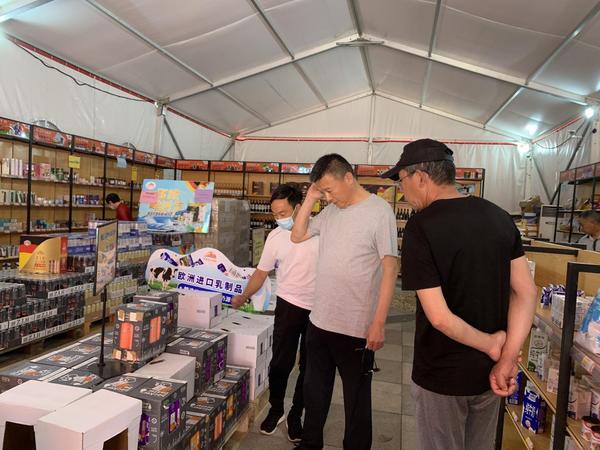 Customers select products at the booth. [Photo provided to dahe.cn]
At present, China-Europe freight train (Zhengzhou) has formed a freight network covering the European Union, Russia and Central Asia, with nearly 5,000 partners at home and abroad. Over the years, the trips of China-Europe freight train (Zhengzhou) have been increased. Returning with the products along the route, it has really become a "Golden" Train. (Chinese source: Henan Daily Translator: Zhao Hanqing Proofreader: Jiao Dan)