Baligou Scenic Area, Henan province (八里沟景区bā lǐ gōu jǐng qū)
Location: The southern foot of Taihang Mountain, Xinxiang city, Henan province
Websites: www.xxbaligou.com/ (Cn)
en.xxbaligou.com/product (En)
Scenic Spot Level: AAAAA
Opening Hours: 7:30-17:00
Ticket Price: 72 yuan ($10.24)/person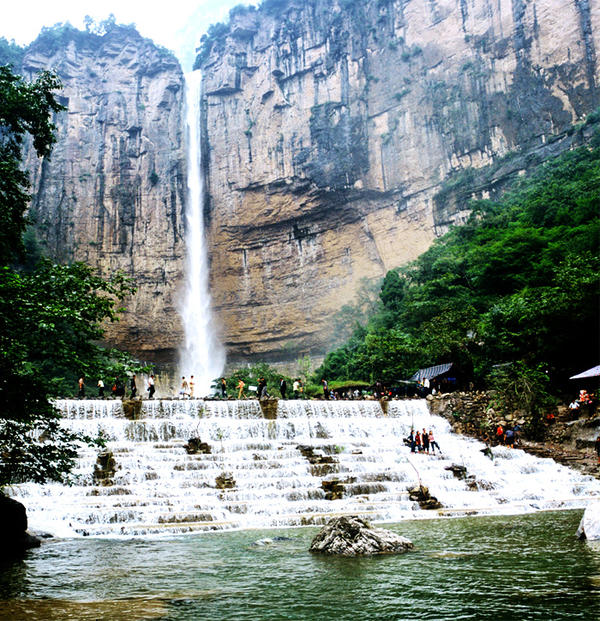 A waterfall in the Baligou Scenic Area in Huixian county, Xinxiang city, Henan province. [Photo/xxbaligou.com]
Baligou Scenic Area is located at the southern foot of Taihang Mountain, on the border between Henan and Shanxi provinces. A great summer resort in Central China, the scenic spot is 18 kilometers from Huixian city, 42 kilometers from Xinxiang city, and 110 kilometers from Zhengzhou, the capital city of Henan province. Its total area is 109 square kilometers.
It is the first "national tourism standardization demonstration unit" and one of the ten best scenic spots in Henan.
The area's varied topography and pleasant climate have formed a unique landscape and culture. South Taihang Mountain in Xinxiang rises between 300 meters to 1,800 meters; the overall shape of the scenic area is spectacular because of ancient tectonic movements and the effects of geological erosion.
There are various landforms in the region, including assorted geological structures and terrain profiles, red rock cliffs, biological fossils, erosion landscapes, animal-shaped rock formations and caves. The mountain's water sources make the park rich in features such as waterfalls and reservoirs, with diverse and beautiful hydrological effects. The unique geology makes the area a resort with a combination of leisure, health, sightseeing and vacation appeal.