Brief
Located in the north of South Africa, North West Province, with Mafikeng as its capital, enjoys a title of the "Province of Platinum" for its abundant metal mineral resources underground, and covers an area of 118 thousand square kilometers with a population of 3.6 million. The inhabitants are mainly Tswana whose official language is Lesotho, and most of them are Christians.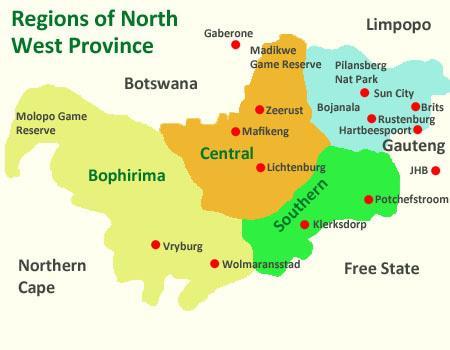 North West Province, South Africa. [Photo provided to showme.co.za]
With broad prairie, mineral exploitation, mainly for gold, uranium, platinum, granite, fluorite and diamond, is the pillar industry of North West Province. It is also a granary of South Africa, mainly producing maize and sunflowers.
North West Province has a typical African climate with sunshine all year round. The main tourist attractions include the Sun City, Pilanesburg National Park, Madikwe Game Reserve and Rustenberg Nature Reserve.
In April 2008, Henan and North West Province officially established a sister-province relationship.
Cooperation Intention
With political stability, consistent policy, complete infrastructure, sound industrial base, lower costs for water and electricity, and land and factory rent, North West Province is a popular destination for investors. In addition, with its prominent geographical advantages, North West Province has the ability to influence the huge market of Southern African Development Community, which has a population of 150 million people. Key investment and cooperation fields include mineral exploration and development, energy, manufacturing, agricultureand agro-processing.