Brief
Located in Northeastern Argentina, Entre Rios, whose capital is Parana, covers an area of 78 thousand square kilometers with a total population of about 1.02 million, of which 82 percent are city dwellers.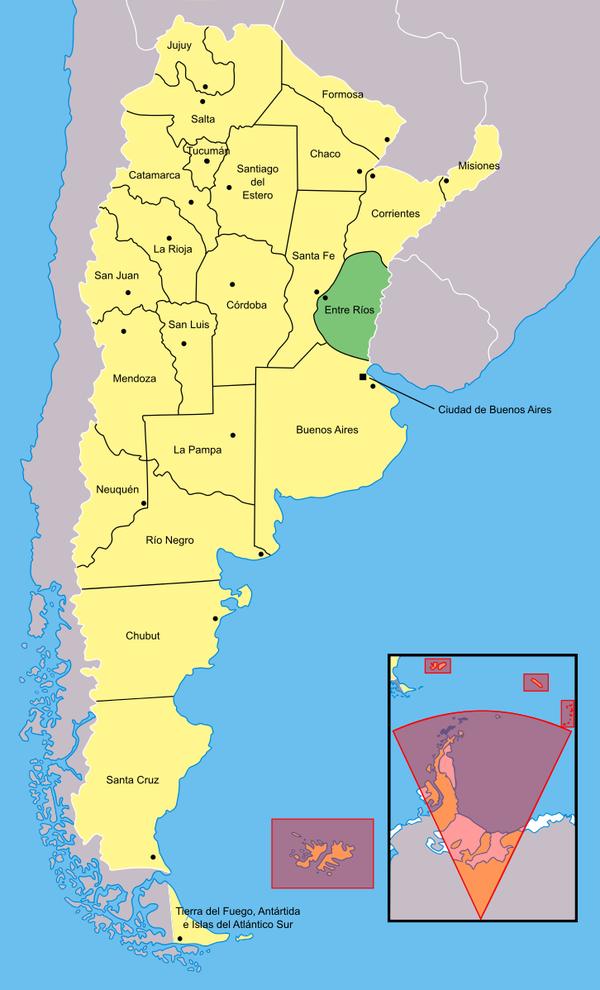 The green part shows the location of Entre Rios, Argentina. [Photo provided to commons.wikimedia.org]
Agricultural industry, dominated by grains and meat, occupies a vital position in its overall economy. As the largest rice production province in Argentina, Entre Rios is also a major rice exporter, mainly to feed Brazilian markets. In livestock production, Entre Rios mainly engages in cattle-rearing, featured by fast-growing poultry industry with products mainly sold to Buenos Aires. Besides, its climate and soil conditions are suitable for artificial afforestation. Characterized by primary commodity processing, its industry chiefly involves refrigeration, dairy processing, poultry feed, natural juice production, lemon purification, wood processing, etc.
In May 2005, Entre Rios and Henan officially established a sister-province relationship.
Cooperation Intention
As a major agricultural province in Argentina, Entre Rios enjoys a nationally important position in planting of soybean, wheat and rice and poultry-breeding; while Henan is also a leading province with strong agriculture and food processing industries in China. The two parties are economically complementary with each other and both have a keen desire for cooperation. Henan's enterprises are advised to seek cooperation in the field of breeding and planting techniques with Entre Rios, and carry out import-export trade of agricultural and livestock products such as soybean, high-quality wheat, chicken and eggs, etc.