Brief
Located in Western Austria, Tyrol covers an area of 12 thousand square kilometers and is home to 680 thousand people with a temperate continental climate featuring four distinctive seasons and rich precipitation. Innsbruck, as its capital, is the cultural, economic and sports center of the state, and one of Austria's renowned tourist attractions.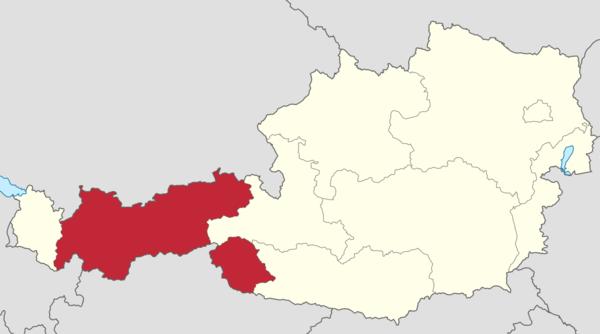 The red part represents the location of Tyrol, Austria. [Photo provided to commons.wikimedia.org]
Thanks to its advanced industrial layout of precision machinery, optical crystal and mining industries, Tyrol boosts a well-developed economy with all-round development of featured industries and service industry, such as tourism, finical service, animal husbandry, dairy industry, etc. For example, its world-known tourism industry has created many opportunities for economic production and employment.
In November 1999, Henan officially established a sister-province relationship with Tyrol.
Cooperation Intention
In recent years, China has become an important tourist destination for Austria and vice versa, with increasing bilateral cooperation and exchanges in economy, tradeand culture. Endowed with a picturesque landscape and a profound cultural heritage,Tyrol attaches great importance to agricultural development. Supported by precision machinery, optical crystal and mining industries, its economy is advanced especially in featured industries and service industry. Moreover, Tyrol at the link between Northern and Southern Europe enjoys a prominent geographical advantage. Thus there will be broad prospect for Henan-Tyrol cooperation in culture, education, tourism and agricultural products processing and other fields.