Brief
Located in Southeastern Poland, Lublin Voivodeship borders Podlaskie Voivodeship along a short boundary to the north, Masovian Voivodeshipto the north-west, Swietokrzyskie Voivodeship to the south-west, Podkarpackie Voivodeshipto the south, Belarus and Ukraine to the east. With a total population of 2179.6 thousand, Lublin Voivodeship covers an area of 25,122 square kilometers and has six railways across the border. It attaches great importance to ecological environmental protection with abundant natural resources, for instance, 2 national forest parks, 17 sightseeing parks, 83 natural reservation areas and 1,500 natural reservation museums.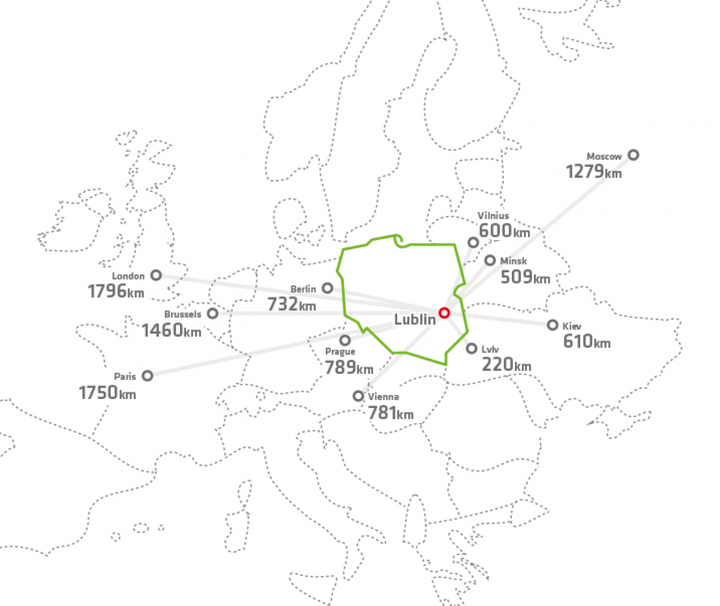 The location of Lublin Voivodeship, Poland. [Photo provided to invest-in-lublin.com]
Lublin Voivodeship mainly depends on agriculture and food processing, featured by the well-developed industry of fruit growing especially strawberry and cherry, as well as sugar, tobacco and grain in the top. Another dependent revenue comes from agricultural tourism.
Blending different cultures, religions and beliefs, it is usually called a "melting pot" of cultures and religions. Germans built Lublin Voivodeship into a concentration camp for Jews. Today, a memorial on the concentration camp site welcomes visitors from all over the world.
In September 2008, Lublin Voivodeship and Henan officially established a sister-province relationship.
Cooperation Intention

The cooperation between Henan and Lublin Voivodeship is based on friendship and mutual trust with frequent exchange visits between the two governments. The bilateral cooperation is highly complementary in economy and enjoys huge potential and broad prospect. With obvious location advantages and friendly investment environment, Lublin Voivodeship is rich in agriculture, forestry and coal. In particular, Lublin Voivodeship is witnessing a rapid economic development, willing to attract foreign businesses and investment, and has provided the land information of the development zones in Lublin Voivodeship and Eastern Poland to Henan, which is a gateway for Henan's enterprises to access to EU markets. If Henan's enterprises choose to set up factories there, the great location will facilitate them to open the markets of Eastern and Western Europe. In addition, the two parties have great cooperation potentials in modern agriculture, food processing, coal chemical industry and wood industry.