Brief
Located in Eastern Indonesia and bordered by Sulawesi and Papua, Maluku province embraces many islands. Covering 54 thousand square kilometers, Maluku is divided into five districts with a total population of 1.4 million. Ambon, the capital of Maluku, covers an area of 377 square kilometers with a population of 190 thousand.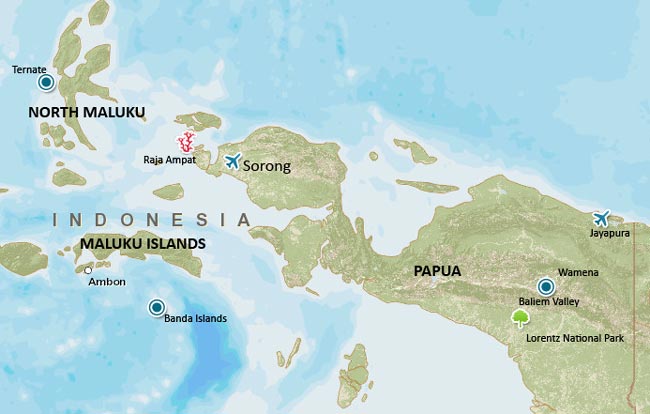 The location of Maluku province, Indonesia. [Photo provided to commons.wikimedia.org]
Not only famous for its fishery, forestry, commercial crops, mining and tourism industries, Maluku is also well-known for its natural fishery that is rich in seaweed, tuna, catfish and crimson snapper. 510 thousand tons of fishes are found around the waters of Maluku, including 360 thousand tons of deep-sea fishing. The forest coverage of Maluku is vast with about 7 million hectares. Meanwhile, Maluku was historically known as a "spice Island" of the Far East, where pepper, nutmeg and lilac were planted throughout the island. Today, spice processing has developed into an important industry in Maluku as its products are widely welcomed by the international market, with the other plants as rubber, cocoa, palm and coffee. In Maluku, except for several key minerals such as vanadium and aluminum, some uninhabited islands are also rich in aluminum, coal, oil, magnesium, gold, copper, chromium, pyrite, asbestos, etc. With 12 seaports and 89 other ports, sea transportation is the main traffic means in Maluku.
In September 2011, Henan and Maluku officially established a sister-province relationship.
Cooperation Intention
Positioned as a key province for the national development strategy, Maluku is rich in agricultural, fishery and mineral resources. The bilateral cooperation between Maluku and Henan is highly complementary in economy and enjoys huge potential and prosperous future. Besides, Maluku's advantage of uncultivated land provides opportunities for Henan for the advanced agricultural technology and machinery development and promotion of local grain production and economic income between both sides. By far, Henan's agricultural authorities have commenced preliminary research on rice cultivation and fishery development in Maluku.